Sweepstakes offers are one of the most interesting offers in affiliate marketing. Everyone be it rich or poor wants to get things for free, that is why sweepstakes are so popular today. So, affiliate marketers can take advantage of this to earn a profit or commission from companies who need data from customers. Let us first be clear on what sweepstakes campaigns are.
What are sweepstakes?
These are giveaway prizes where the winner(s) are chosen randomly. To participate in sweepstakes, the person needs to insert their name, email, phone numbers, etc. Some of the most popular prizes to win from sweepstakes are Apple products, shopping gift cards, and travel offers. The affiliate marketer gets a commission when a user completes a sign-up process. No fee is charged to the user for participation, so it is free. You get paid by the merchant/advertiser for your services.
For example, the above image shows sweepstakes that offer free groceries for one year to the winner. To enter the content you need to download the app. The winner will be chosen randomly from the people who downloaded the app. 
This sounds easy, right? Now, the big question is that do sweepstakes offers work, or are they just another campaign strategy? Most often, sweeps are very easy to convert. That is why they should be on the list of all newbie affiliate marketers. It requires the user to just insert some data and that is it. Since that is the case, they have a very high conversion rate, but the payouts are often low. 
Some sweepstakes offer need the user to subscribe to some services or so, and not just insert an email or name. These ones are harder to convert and are of much value to the merchant so they have a higher payout. 
There are three main types of sweepstakes:
SOI: Sweepstakes with simple registration (you only need to specify your data). This is the easiest type of offer and has the lowest payout among sweepstakes.
DOI: Sweepstakes with the need to confirm through your e-mail (follow the link from the letter that arrives after registration). This is a more difficult option to work with but the payouts are higher than in SOI.
CC Submit: Here, the user needs to enter bank card data and subscribing through it. From the user write off a certain amount of money. This is the most difficult and not entirely legal option but it is also the most profitable option and not all affiliate programs work with it.
The Hype
As always, hyped products are the best.
Is the new iPhone coming out? Is there an informational occasion with the corresponding product?
Sweepstakes with them will attract a huge amount of the audience. For example, Black Friday + sweepstake with the iPhone X.
With hype sweepstakes, ROI is always growing and failures are decreasing. Therefore – follow the calendar and news, do not miss the opportunity.
Classic approaches
There are two options:
You show the product and share it: for example, iPhone, Starbucks and Amazon cards on Black Friday.
The visitor goes to the landing page and sees the message "You are the 1000th visitor! You have become one of the people who can win anything!". This approach is more dubious but works fine. 
The main difference between sweepstakes and other niches is that these types of creatives do never get old. They work with the same efficiency all the time. 
Note that Sweepstakes have fairly low rates, especially on the classic type. 
The rising popularity of sweepstakes means that they are not just buzzwords, people have actually benefited from them that is why the competition keeps getting stronger. 
So how will you run a successful sweepstakes campaign and start earning profits and commissions?
Sweepstakes affiliate programs
CrakRevenue
affiliaXe
ClickDealer
LetsCPA
Maxbounty
SunHamedia
Choosing the sweepstakes type
You need to be very strategic about the type of sweep you want to run. This is because the GEO and the audience will also vary and be affected. For your sweepstakes campaign to be successful, you need to offer something that your target audience wants. For example, targeting a younger audience with the newly released iPhone X or Samsung. 
It could be something like "Back-to-school season will be here soon! Join now and win a one-year supply of school items awarded as a $3,000 check." It is not a must that the sweeps correlate with any special event. It is rather advantageous to focus on a great prize and not on any particular theme. 
Here is a case on Samsung Galaxy S9 sweepstakes with an ROI of 78%, spent $1404.5, gained $2508, with a net profit of $1104. The traffic source used was PropellerAds. Here is what the landing page looked like: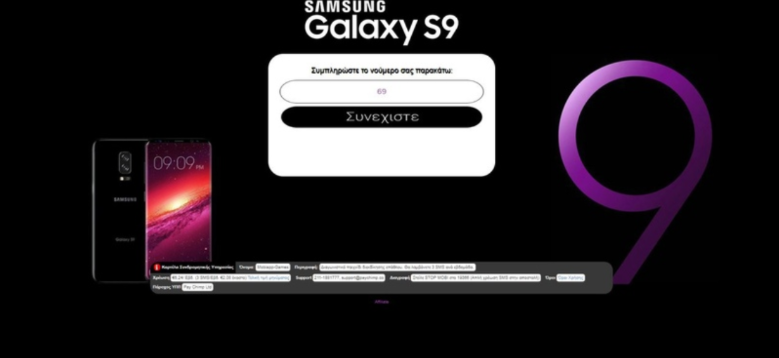 The message for the Push ad was simple "You have missed (1) message. Do not throw away your chance to win a new Samsung".
The first campaign was launched using CPM and targeted at all user activity groups. Then A/B testing was carried out to note what ad copy had the best CTR. When that was done, the campaign was duplicated to run with CPC bidding. It also did well. 
Deciding on the traffic source and GEO
One of the most profitable campaigns come from settings your sweeps on popunder traffic. Even with the idea that users are often irritated by popads, they still have a high CR and may reach an ROI of up to 300%. Some other mobile traffics sources include  ZeroPark, PropellerAds, and AdCash. All of these traffic sources have different placements, that is why you need to do much testing. A landing page is also important for your success because the sweepstakes will not do well with direct linking.
Facebook and native
These are also some of the top sources but Facebook is the most complex.
You will have to pass moderation and also need to have a fast response to changes.
You have to constantly find new payments for Facebook, be prepared for the high price-per-click
They are not a very good choice for those who are just starting to work with sweepstakes.
PopUnder and Push Notifications
The push traffic is very simple and easy to understand. They are a popular trend now and seem to work well. You need to note that  Push-notifications do not work well in Russia and the CIS: the sources are exhausted.
If we talk about Europe, the USA, etc., everything is different there. Need to work with major market players.
Email 
It is not advisable to work with advertisers in Europe partly because of their legislation on the protection of personal data (get ready to confirm the sources you used to obtain the base).
Sweepstakes has a high influx of newbies because it is easy to convert. But then often make a mistake by not choosing the right GEO due to lack of experience. Many beginners search for high payouts by aiming for the 1st tier. This is definitely not good for newbies because of the high competition and they will end up wasting all their budget.
It is best to choose GEOs in the 2nd and 3rd tiers. Then you can test them to find out the ones that have brought in more profit. Why choose 2nd and 3rd tier? Traffic is cheap and abundant, there is not much legislation on your online activity, they are good for starting, testing, and gaining experience. 
Creating Pre-landers
Direct-linking does not work with sweepstakes offers. Sweepstakes need a pre-lander that will engage the users with the possibility to earn a prize. So, how to create a pre-lander that converts?
The call-to-action button should be explicit and clear. Ensure that the users know how to enter the sweepstakes.
The visual appeal of the sweepstakes accounts for 70% of its success. 
Make sure that the loading time of the pre-lander is fast. This is because the loading time is directly proportional to the conversion rate. 
Make sure that the language of the pre-landers correlate with GEO you have chosen. They will perform better.
For example, your landing page may contain several sweepstakes offers so that the user sees not one prize, but many at once. With this, he will participate in all of them to increase his/her chances of winning. Now, your task is to select relevant prices from different advertisers for each landing page. This is to make sure that one advertiser does not receive multiple registrations from the same person. 
Testing and optimizing your sweepstakes campaign
Make different pre-lander and try various GEOs, experiments with sources, now collect the results of your tests and choose the best-performing ones. The testing phase should not take long. Make sure you black-list all the sources and variables that do not do well. Tracking solutions such as RedTrack will give you information on the most converting time (hours/days), best-performing sources, OS or browser and much more. Make sure you disconnect non-working sites. For more information about trackers, you can check our article on how to choose a tracker for affiliate marketing.
For creatives, we advise you to use push-notifications through these main services: Push.adnow, DatsPush from Leadbit and Propeller.ads. For us, these were the three most important sources. Some other sources you can use are: 
Sunhamedia: Sunhamedia is a world-wide CPA network for profitable monetization of traffic. The company works with niches such as Sweepstakes and many others.CrakRevenue: This affiliate network features all kinds of offers, from Adult to Sweepstakes. Given its long history on the market and a ubiquitous recognition among affiliates, a great place to start.
Conclusion
Sweepstakes is one of the best verticals to start your affiliate marketing journey and gain experience. All you need to do is get information on the best converting sweepstakes, create different pre-landers, then launch your campaign. Do not forget to use a tracker to give you relevant information about the campaign.